PETER'S STORY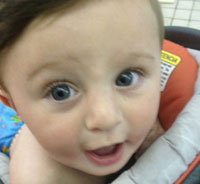 This is the story of a 15 month old boy called Peter, who was saved from a definite drowning if it wasn't for the Swimming lessons he took from Kiss Swim since he was six month old.
We were at the country club watching Peter's brother about to start practicing with his swim team, and it just took seconds to see Peter at the edge of the pool wearing all his winter gear and bending over to throw his toy in the pool.
In a split of a second, Peter was in the pool face down.
The lifeguard was about to jump when I stopped him just to see, after all the swim classes that Peter has taken, what could he do? I didn't know if that was a wise decision I took back then, I was so worried, my heart was beating so strong, so fast and here I see Peter coming out of the deep, rolling on his back floating and screaming as he usually does best.
It was a great relief for me to hear Peter's screams and also realization of a tremendous satisfaction from the Kiss Swim program.
I highly recommend teaching young kids how to swim or at least how to be able to save themselves from water accidents, and those accidents can happen everywhere.
Special thanks go to Jeff!
- Addie Hayek